How to become Trading Standards Approved.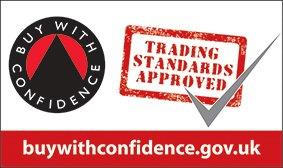 One of the first goals we set for the company when my wife and I started the business was to become Trading Standards Buy with Confidence Approved.
As a business being able to show your new potential customers that you are trustworthy, caring and a professional business Is really important. After all what makes your business different to all the others in the Google search.
To become Trading Standards Buy with Confidence approved there are a few things that you need to do.
Be trading for at least 6 months
Apply for a DBS (formally CRB) check
Contact your customers and ask them if they would be happy for Trading Standards to contact them about their experiences with your company. Trading Standards will then contact 5 at random from the customers you supply
Have the relevent insurances in place to protect your customers should something go wrong.
Provide proof of training.
Provide copies of all your advertising to make sure it is fair, accurate and not misleading
Our company prides itself on its customer service and making sure the customer happy is one of our top priorities. We will happily work with our customers, to make sure that the job we are asked to carry out. Wether that is a repair or installation we will perserveer until that job is complete and the customer is happy.
By inviting Trading Standards into our business and asking for their approval on how we do what we do. We show our customers that not only are we confident in our work but we work to a standard and with practices that are recognised and approved by Trading Standards as part of the Buy with Confidence scheme.